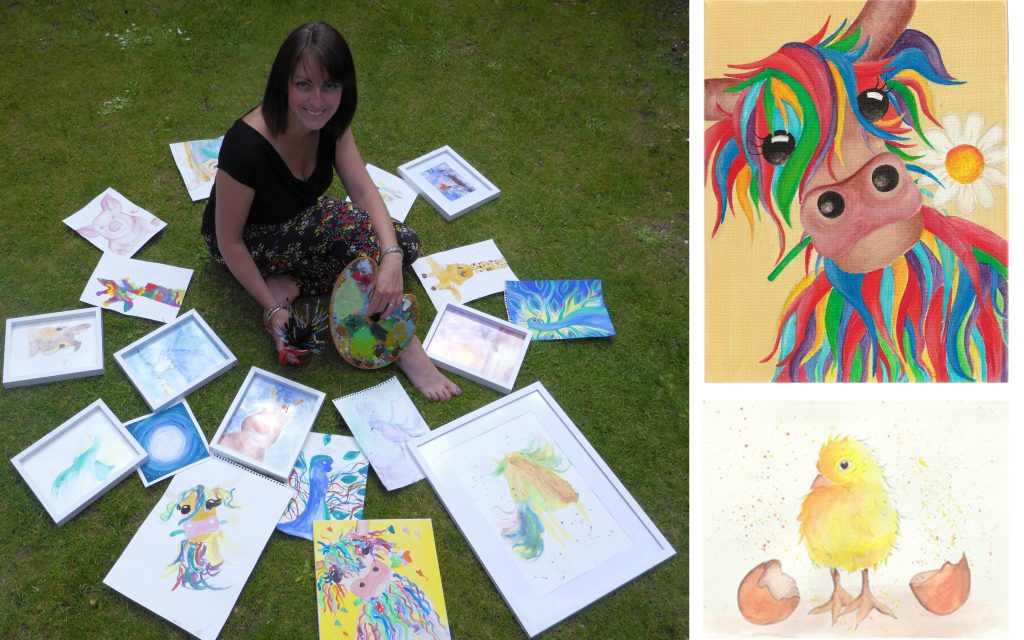 The story behind how 'Create' came to be is quite simple really – it was born out of a love of teaching combined with a passion for art.
For as long as I can remember, I have loved to draw, paint and create. As a young child I would spend hours drawing and doodling. Now, several decades later, nothing much has really changed.
Whilst being passionate about art, I also loved the idea of working with children. I was lucky enough to be able to study at Bristol University for a joint degree BA HONS (Qualified Teacher Status) with Art. During this time, I was able to train to become a Primary school teacher specialising in teaching art whilst also continuing with my own art studies. After gaining a First Class Degree, I began a successful and highly rewarding career as Primary school teacher where I taught all year groups from Reception to Year 6.
In 2017, I was fortunate enough to be able to continue working part time within Primary education alongside building my own art business from my home studio – Studio 85. http://www.studio85.uk My work mainly focusses on portraits, commissions and greeting card design and production. It felt wonderful to have this creative outlet again whilst still being able to work with children.
Alongside my new venture, I also wrote and illustrated my own children's book 'Jungle Show'. After many years in Primary schools, I was really keen to create my own book to help to inspire a love of reading within children. Having spent many hours as a child writing short stories accompanied by drawings, it was something that I had always wanted to do. To me, writing and illustrating were one of the same thing: the pictures often popped into my head before the words.
With writing a children's book came school author and illustrator visits. It was wonderful to be able to inspire the children and teach them about how picture books are produced. However, it was the illustration workshops that I ran, as part of these visits, that inspired me to combine my love of art and teaching children. It was just amazing to see the spark in children as they created their own version of my characters. It was wonderful to inspire them to be their own illustrators. I realised my ambition to teach children to draw and paint, to give them the skills and the permission to be creative – to CREATE! I also realised that with the growing constraints within the school timetable this is now more important than ever. After all, these skills give children so much more than just a painting or drawing.
Aside from the sense of achievement gained when creating a piece of art work, in turn promoting self-esteem, the process helps children to think creatively, find solutions, encourages attention to detail, stimulates perception – the list of benefits is endless! Most importantly though – children FEEL GOOD DOING IT.
In the Spring of 2019, I launched my first children's workshop. I was thrilled by the response that I received.http://www.createartclass.co.uk/testimonials/ Soon I had full classes and many repeat customers. Most importantly to me, I was seeing happy and proud children inspired to keep creating!
"You can't use up creativity. The more you use, the more you have."
Maya Angelou
Since the classes started, I have expanded to offering after school classes in several locations and after requests from parents I introduced monthly adult workshops which proved really popular. In the future, I am planning to offer pre-school and parent classes so watch this space.
Unfortunately, due to the COVID 19 situation, classes are currently unable to run but I cannot wait to get back to them once it is safe to do so. In the meantime, I have produced some Youtube video tutorials http://www.createartclass.co.uk/book-a-worshop/ which I know could never replace the experience that you gain from a class but I hope that they help, in some way, to keep children (and adults) inspired and most importantly – CREATING!
Some examples of my own art work
A few other things (apart from art) that I love